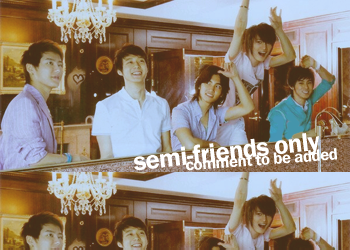 Hey Ya'll!!
I love making new friends, but before that please comment before adding..
:P
I wanna know more, like: Fandoms, where you're from, likes and what-nots..
For example:
KAT-TUN
TVXQ
ARASHI
KANJANI8
SUPER JUNIOR
SHINee
I post really little, and when I do, its either very short or about
JE
and
SM
..
You have been warned..
Thank you.. :)
Credit to
loversflyinfree
for the banner!!
Credit to
okimiyage
For the emoticons!!
Current Mood:
high